This report has been produced together with High Dividend Opportunities authors Philip Mause and Julian Lin.
Pattern Energy Group (PEGI) is an owner/operator of wind and solar power generation facilities. It traded recently at $17.80 and pays a dividend of 42.2 cents per quarter for an annual yield of 9.4%. PEGI is not an MLP and issues 1099 tax forms, so that investors do not have to cope with K-1 hassles.
Because of the nature of its generating units, changes in the world oil price have no effect on its financial performance. This suggests that this is a good stock for income investors seeking to diversify and reduce correlations to oil prices. PEGI's share price has pulled back recently for reasons we will explain below, and now trading at a very attractive price. PEGI is also in the middle of an active growth program. Shares are a great buy for a high dividend yield and further potential for dividend growth.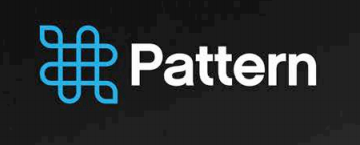 The Green Opportunity
The mounting evidence concerning the impact of carbon emissions on the environment has steadily forced governments all around the world to make a shift towards renewable energy sources a priority.
Global renewable power capacity has compounded at around 8.3% annually since 2011: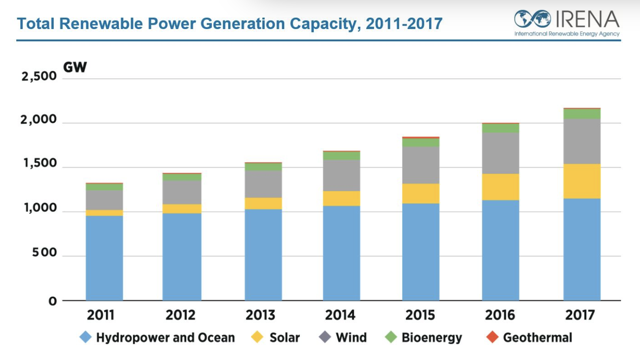 (International Renewable Energy Agency)
This doesn't look like a trend that will end anytime soon, especially considering that the US Department of Energy's National Renewable Energy Lab has estimated that by 2050, 80% of all power in the U.S. can come from renewable sources.
Still investing in green energy has been a tricky task. Those investing in solar companies discovered quickly the lack of pricing power and some dependence on government tax credits. Furthermore, many of these green energy companies tend to trade at sky-high valuations and limited earnings. One needs to look no further than at the chart of First Solar (FSLR) to understand how hard investing in this trend has been: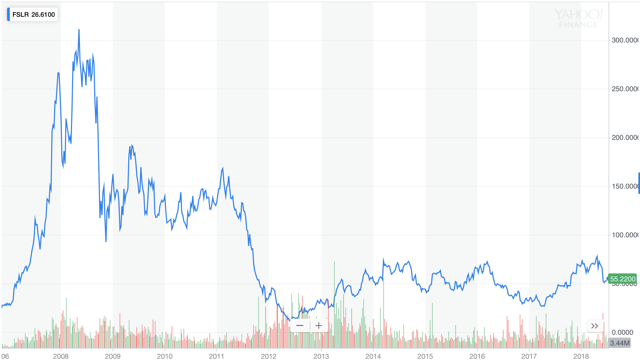 The good news is that there is an investable sector which finds itself squarely benefiting from the green energy trend. YieldCos are companies which invest in power generators of renewable energy. As a sort of green energy utility company, they tend to boast extremely consistent revenue streams and in combination with the consistent growth from new projects, are able to pay out a large and growing dividend yield. This sector is very interesting because in many cases companies trade at reasonable valuations despite being in a fast growth macro environment benefiting from the green energy trend.
About PEGI
PEGI's primary business is the operation of wind and solar electricity generating facilities in the United States and, increasingly, globally. PEGI typically acquires a completed project with a power sales agreement and then operates the project and services project debt.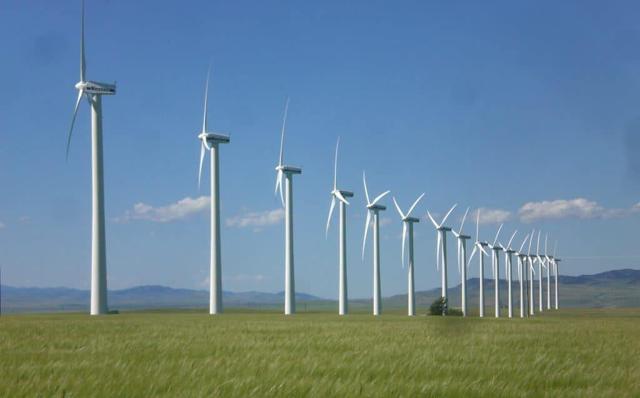 Many of the projects are partnerships or joint ventures in which PEGI does not have 100% ownership. The power sales agreements are typically long-term contracts with strong counterparties such as electric utilities. These contracts have a long 14-year average remaining term and an A average credit rating: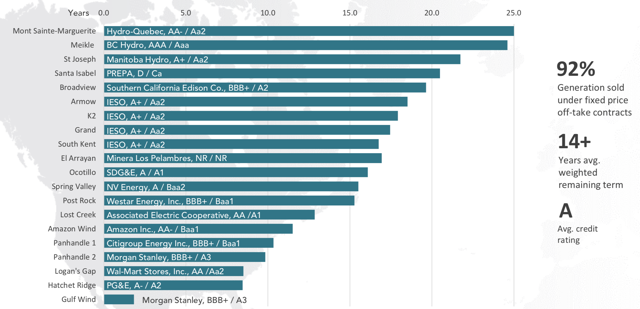 PEGI has diversified its capacity well among projects: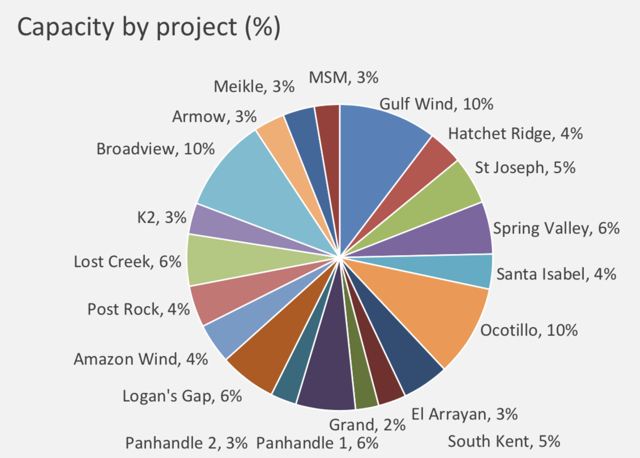 PEGI is also well-diversified among offtakers (the buyers of the energy production):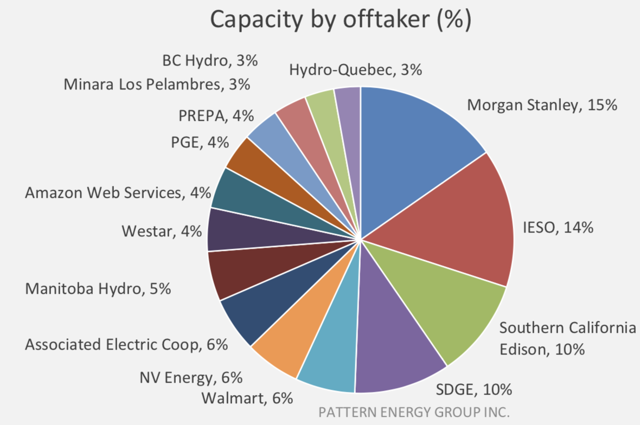 The major variable is the amount of electricity generated which varies depending on wind performance. PEGI has mitigated this risk through diversification via geography: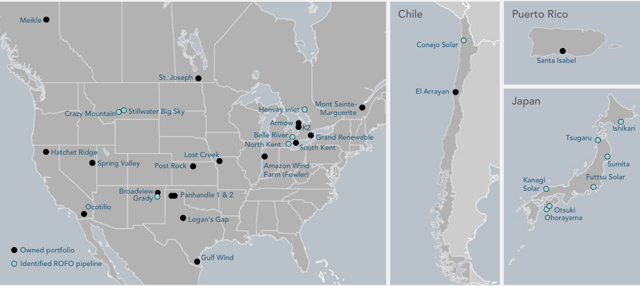 PEGI now has facilities with nameplate capacity of some 4 gigawatts and is targeting much higher levels of capacity and output. Each project is, to a degree, a separate entity with its own debt and ownership structure. The debt is generally non-recourse which limits the danger of one disastrous project impacting the entire company.
PEGI has also recently entered the development side of the business. PEGI now owns some 29% of Pattern Development 2.0 – an entity which organizes, funds and completes new projects for sale to entities like PEGI. Depending on the success of the development process, the profits can be considerable. PEGI has a right of first refusal on Pattern Development 2.0 projects and – because of the relationship – a fairness opinion is obtained at the time of sale.
The Japan Expansion And Long-Term Plan
PEGI made a major step into the international market in Q1 2018 by acquiring a group of Japanese projects. Because the acquisition was made in March, the projects did not significantly contribute to Q1 financial results. Three of the projects are already on line and producing revenue and the other two are in late development. The entry into the Japanese market is a very promising development for several reasons.
First of all, Japan has a strong commitment to renewable energy due in part by its lack of fossil fuels and its caution with respect to nuclear reactors after recent troubles in connection with a tsunami. As per Japan's Ministry of Economy, Trade and Industry, it has set forth an energy plan for 2030 in which it will generate about 22-24% of energy from renewable sources (excluding hydro-power):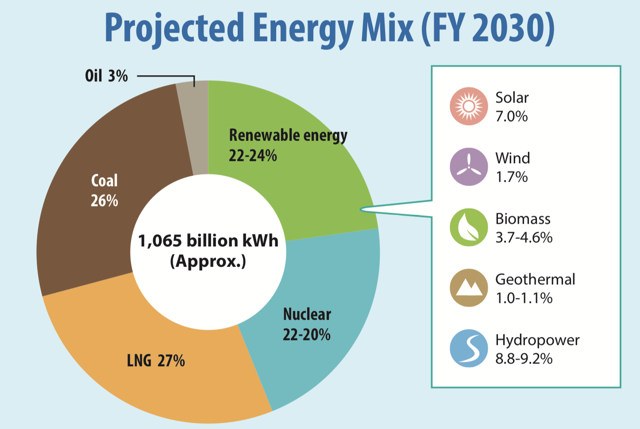 It is likely that there will be a steady stream of projects coming on line in Japan and PEGI will be well-positioned to participate in this growth.
Secondly, the economics of operations in Japan are very attractive. The Japanese electric rates paid to power generators are roughly three times the equivalent rates paid in the United States. The current power purchase agreements ('PPAs') are $220-360/MWh with 20-year terms. For roughly the same equipment and maintenance costs, an operator can generate 300% of the equivalent U.S. revenue.
Finally, interest rates are extremely low in Japan and these projects are significantly leveraged. To give an idea, on one of the Japanese projects PEGI has obtained an interest rate of 0.72% and on another of these projects, this came with a loan which matures in 2033 and has an interest rate of 1.07%.
The entry in Japan promises to offer very attractive opportunities to generate cash flow at the operating level and substantial profits at the development level.
Japan is one of its key growth drivers via identifying "Right of First Offer" ('ROFO') opportunities. It has already identified via ROFO more than half of the needed capacity to reach its 2020 target of 5,000 MW. This also does not take into account its potential 10,000 MW from its development pipeline: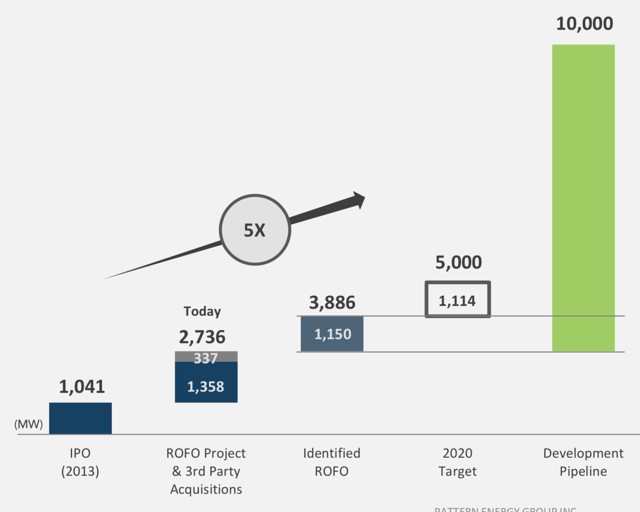 The path to growth is clear and the growth runway is long – continued ROFO acquisitions will help support future CAFD/share growth.
Recent Financials
PEGI's first quarter results were solid. PEGI had "Cash Available for Distribution" ('CAFD') – a metric somewhat similar to the "Distributable Cash Flow" ('DCF') metric used by MLPs – of $43.1 million (or 43.8 cents a share) in Q1. Revenue was up 10% on a year-over-year basis and adjusted EBITDA was up 6% on a year-over-year basis to $104.2 million. Q1 GWH sold attributable to PEGI's share of projects was up 4% year over year.
PEGI is guiding to CAFD of between $151 million and $181 million for full-year 2018, which would be a 14% increase year over year which is enormous. The mid-point of that range ($166 million) would imply a valuation of Price/CAFD ratio of 10 times.
The Dividends
PEGI has paid a dividend of 42.2 cents for the past three quarters. Prior to that, PEGI had increased its dividend 15 consecutive quarters.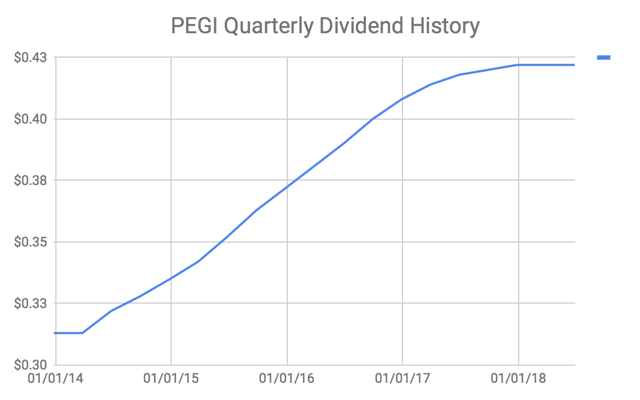 The cessation of the dividend increases may have attributed to some weakness in PEGI's share. That said, the attractive growth pipeline and ROFO opportunities suggest that more growth may be in store for this 9.4% yielder.
The Big Pullback last week has created a Buying Opportunity
The stock significantly pulled back last week (by 10.5%) based on some negative news coming from Canada.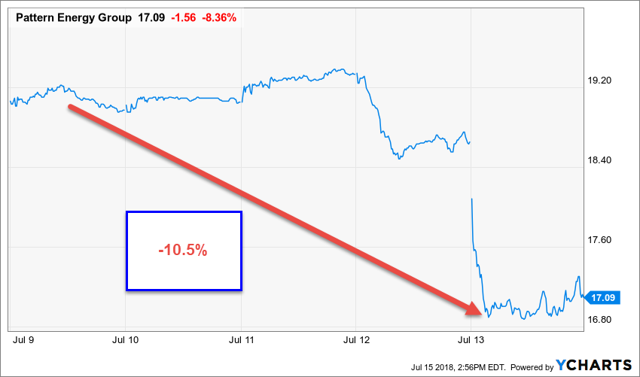 Ontario Vowed to Nix Clean-Power Projects: The piece of news that significantly affected the price of PEGI last week was related to Ontario's Premier Doug Ford vowing to cancel and wind down more than 750 contracts for renewable power projects, making good on a campaign pledge to revamp the province's energy policies. Terminating the early-stage projects, which the government didn't identify, would save electricity customers in the Canadian province C$790 million ($600 million). How would this affect PEGI?
PEGI has 4 operating projects in Ontario with total owned MW capacity of 382 (out of a PEGI total of 2942). Three of these projects have "power purchase agreements" (or 'PPAs') running through 2034; the fourth runs through 2035. PPAs are generally firm and binding – otherwise financing could not be obtained. These projects are not likely to be affected. At the end of the PPA in 2034, there will be a different government in Ontario and while it is possible that the purchases will not be continued or will be at a lower price, by that time PEGI will have recovered its costs and results that far off are speculative and do not materially affect valuation.
Pattern Development which is now partially owned by PEGI has 3 projects in Ontario (these projects are not owned by PEGI but they are described as projects PEGI is likely to acquire). Two are operating and one is under construction. None could be described as "early stage." All three have PPAs but we do not have any details on the number of years that these PPAs run. It is likely that they are 20-year deals which commenced in 2017 or so, and thus will run to even later dates than the PEGI-owned projects described in the first bullet point above. It is unlikely that the Ontario government will want to pay the costs of terminating these PPAs.
While the Ontario developments are troubling and remove one attractive venue for future development, they also underline the importance of PEGI's decision to enter the Japanese market.
Therefore, we do not view that the Ontario situation will have any significant impact on the profitability of PEGI and has created a buying opportunity. In fact, we believe that the pullback has also resulted in great buying opportunity which was also shared by Goldman Sachs (NYSE:GS) which issued a statement saying that "PEGI is unharmed by Ontario cancellations" and that PEGI's risk-reward as one of the more attractive setups in its coverage.
Risks
Risks include lower wind flows, public policy changes to the disadvantage of renewable energy, and site-specific operational problems. In this regard, the public policy that is most critical to projects in the United States is not federal government policy but the policy of many states to require higher and higher percentages of electric generation by renewable each year. There is no sign that these policies are being abandoned.
Increasing size and geographical diversity will limit the risks of decreased wind flow and site-specific operational issues going forward. The attractive aspect of PEGI from the point of view of a yield-oriented energy investor is that it has no exposure to the impact of the world oil price.
Bottom Line
PEGI's price decline in the past months is most likely due to the cessation of quarterly dividend increases. PEGI is in the middle of an aggressive growth program and, as we have pointed out in other articles, this can create short-term pressures on cash flow because the expenses of growth show up in financial statements well before the cash flow materializes.
As for the pullback in price by 10.5% last week, it has opened the door for a unique buying opportunity.
PEGI's full-year CAFD projection is consistent with Q1 numbers and may even be somewhat conservative given the growth projects underway. Trading at a valuation of 10 times current CAFD, PEGI is very cheap given its growth prospects. The growth track record and credible plans for more growth, likely future increases in CAFD and dividends, and no exposure to the world oil prices make PEGI very attractive to yield-oriented investors with its 9.4% yield.
We recommend to use the recent price decline to buy more stock. There may soon be a reassuring press release and/or 8-K about the Ontario situation which would lead the stock to pop. Investors who get in today are also buying before the market "bakes in" the effect of the potentially high profit from the Japan investments which are likely to result in higher share prices.
If you enjoyed this article and wish to receive updates on our latest research, click "Follow" next to my name at the top of this article.
All images/tables above were extracted from the company's website, unless otherwise stated.
About "High Dividend Opportunities"
High Dividend Opportunities is a leading and comprehensive dividend service ranked #1 on Seeking Alpha, dedicated to high-yield securities trading at bargain valuations. It includes an actively managed portfolio currently yielding 9.7% – with a selection of the best high-yield MLPs, BDCs, Property REITs, Preferred Shares, CEFs and ETFs. Subscribers benefit from "Live Alerts" to buy securities at attractive prices. We invite income seekers for a 2-week free trial to help you identify the future outperformers in the high yield space. For more info, click here.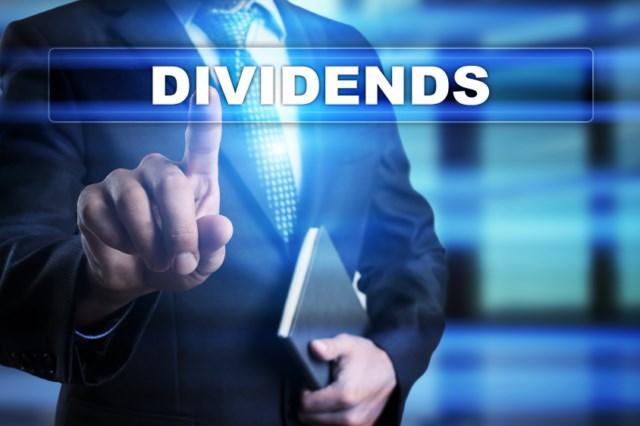 Disclosure: I am/we are long PEGI.
I wrote this article myself, and it expresses my own opinions. I am not receiving compensation for it (other than from Seeking Alpha). I have no business relationship with any company whose stock is mentioned in this article.